Agile and experienced team
The Multi-Asset Portfolio Management Team at Nikko AM is headquartered in Singapore and consists of highly experienced investment specialists with diverse but complementary areas of expertise. With 4 portfolio managers, a senior strategist and 2 quantitative analysts, the team is nimble enough to make key decisions quickly. Being in a small team enables each member to take ownership of the investment process, bringing out the best of their diverse skillsets.
Asia-centered, with a global mindset
All the portfolio management team members reside in the Asia-Pacific region – Makoto Yamasaki operates from Japan, while the rest of the team is stationed in Singapore. The team shares the same investment philosophy, but its members bring a diverse set of skills, capabilities, insights and cultural backgrounds. Being based in Asia, where wealth is burgeoning and markets are less transparent compared to their developed counterparts, gives the team a different perspective.
Pragmatic investment philosophy
Valuation is the primary driver of investment returns.
A fundamental process with quantitative rigour is required to ensure the best chance of long-term future success.
Limiting losses produces superior long-term returns. A focus on protecting the downside is essential in ensuring that gains are not eroded by dramatic reversals in markets.
Diversified approach, consistently applied
Valuation, supported by momentum and macro factors, drives through all of the team's research. The portfolio comprises four opportunity sets: developed markets, emerging markets, relative value strategies and alternatives.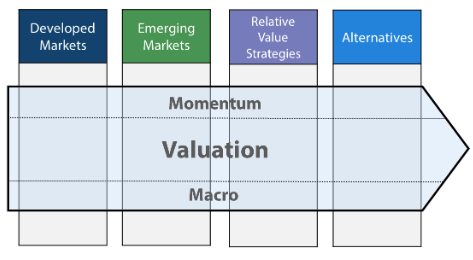 The Nikko Asset Management Multi-Asset team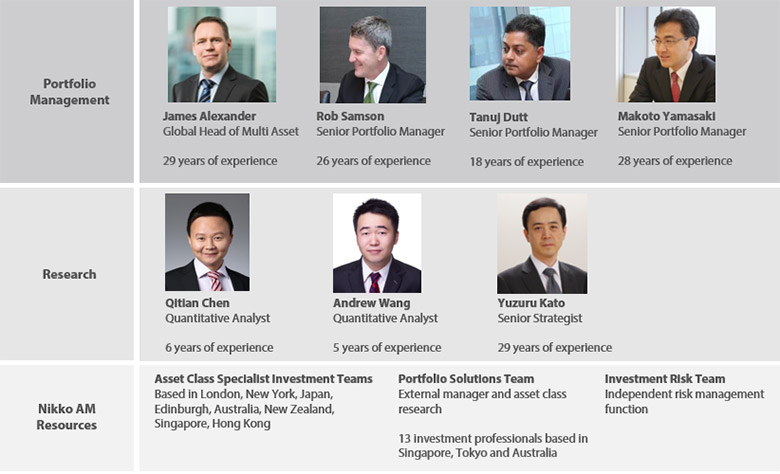 The investment process
Nikko AM's Multi-Asset Team's investment style is a unique, holistic approach to asset management. Instead of simply determining an asset allocation and outsourcing all sector management to other teams, the Multi-Asset Team maintains complete control over the total portfolio, ensuring that risk management is achieved across countries, asset classes and securities.
The investment process includes four distinct phases that lead to the final portfolio.
Develop the Foundation Portfolio to match the risk/return objective of the Strategy. This component drives the majority of the Strategy's returns and risks.
Ongoing asset class research allows the Portfolio Managers to adjust their positioning to capitalise on current market conditions.
The Team implements a proactive approach to downside risk protection to help limit losses.
The portfolio is implemented and monitored to ensure the best outcome for the client.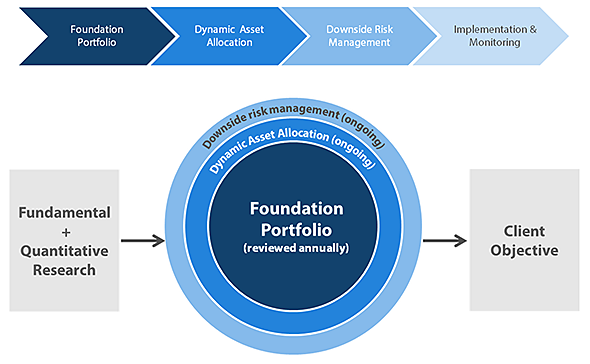 Three key principles
Understand the real drivers of asset price returns via dedicated in-house research.
Allocate to appropriately priced risk – disciplined portfolio construction is essential, as asset class diversification is not risk diversification.
Focus on downside risk – a proactive approach to limiting losses.