日興資產管理方舟顛覆性創新策略的目標是把握跨越各經濟領域、行業和地域的科技創新活動所帶來的變化趨勢,從而取得長期資本增長。
ARK Investment Management LLC (ARK) 是日興資產管理集團的策略夥伴,為此策略的投資顧問。方舟投資的辦事處設在紐約,這家投資管理機構專門投資於有望改變世界運作方式的顛覆性創新活動。
ARK的投資理念
ARK認為創新是成長的關鍵。顛覆性創新是利用科技推出能改變業界的產品或服務,特點是簡易、便捷同時能夠降低成本。儘管顛覆性創新的潛力龐大,但是傳統投資者往往沒有認清或者誤解了顛覆性創新的影響範圍和所帶來的投資機會。ARK認為,由於其策略與傳統的成長和價值策略的相對回報相關性低,所以它能在一個完整的市場週期內取得優於大市基準指標的表現。
投資策略
日興資產管理ARK顛覆性創新策略的目標是主動管理由符合顛覆性創新主題的股票所組成的投資組合,從而取得長期資本增長。這個投資組合體現了ARK在多個領域最具信心的投資概念,包括工業創新、基因組學創新、下一代互聯網和金融科技創新。此策略投資的是顛覆性創新的領導者、推動者和受惠者。
這個策略不依賴基準指標(benchmark agnostic),會投資於多個領域和地域的企業。投資組合中會有市值不一的企業,與傳統大市指數的重疊性低。
此策略是以ARK獨特的研究流程為基礎,其中包括一個開放式研究設計("開放式研究生態系統"),能令我們深入瞭解多個變化迅速的主題。
策略特點

ARK的投資團隊
日興資產管理ARK顛覆性創新策略的顧問為ARK投資的投資總監及投資組合經理凱瑟琳·伍德(Catherine Wood),她在業界擁有超過40年的工作經驗。
Catherine同時也是ARK的總裁兼創辦人。ARK是於2014年1月與美國證券交易委員會(SEC)註冊成立的投資顧問公司。在創辦ARK投資之前,Catherine在聯博(AllianceBerstein)擔任全球主題策略投資總監長達12年,所管理的資金超過50億美元。在加入聯博之前,Catherine任職於她參與創辦的全球主題策略對沖基金Tupelo Capital Management,所管理的資金達8億美元。她之前在Jennison Associates工作長達18年,先後擔任首席經濟師、股票研究分析師、投資組合經理和董事。她入行時是在美國資本集團(The Capital Group)擔任助理經濟師。Catherine是於1981年在南加州大學取得金融與經濟榮譽理學學士學位。
ARK的研究總監布雷特·溫頓(Brett Winton)與Catherine共事已超過10年,他專注於研究和管理ARK的分析師團隊及研究流程。ARK的分析師是按投資主題和支持元素分組,而非領域或地域。分析師會在特定主題下合作,也會跨主題合作。

Catherine Wood
Founder, Chief Executive Officer, Chief Investment Officer

Brett Winton
Director of Research
Analyst Team

Tasha Keeney, CFA
Autonomous Vehicles, MaaS, 3D Printing

Sam Korus
Robotics, Energy Storage, Space

Simon Barnett
DNA Sequencing, Molecular Diagnostics

Maximilian Friedrich
Fintech, Venture Capital

Nicholas Grous
Social Media, Streaming

Yassine Elmandjra
Blockchain Technology, Cryptoassets

Alexandra Urman
Immunotherapy, Gene Editing

Will Summerlin
Artificial Intelligence, SaaS

Frank Downing
Cloud Computing, SaaS, and Cryptoassets

Pierce Jamieson
Associate Analyst
(as at 30 June 2022)
ARK's Director of Research Brett Winton, who has worked alongside Catherine for over 10 years, is focused on research and managing ARK's analyst team and research process. ARK's analysts are organized by investment theme and supporting elements, rather than sector or geography. Analysts collaborate within particular themes, as well as across themes.
ARK的投資流程
The investment process is driven by ARK's Open Research Ecosystem, which seeks to capitalise on rapid change through an open approach and the convergence of insights. ARK believes that a combination of top-down and bottom-up research allows the team to size the investment opportunity of disruptive innovation, and then detect and rank companies best positioned to benefit.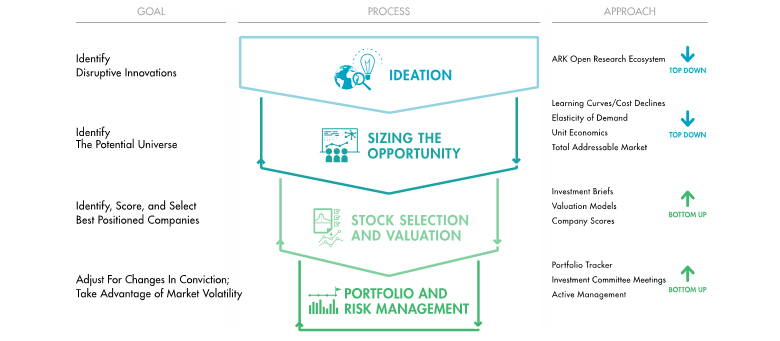 ARK's Open Research Ecosystem
ARK employs its proprietary Open Research Ecosystem to gather information, both helping to define and refine its internal research process. Inputs include theme developers who are thought leaders in their fields, social media interactions, and crowd-sourced insights as people respond to ARK's public research. By applying technological concepts and external data to traditional approaches, ARK seeks to create a more transparent, creative, and interdisciplinary investment process.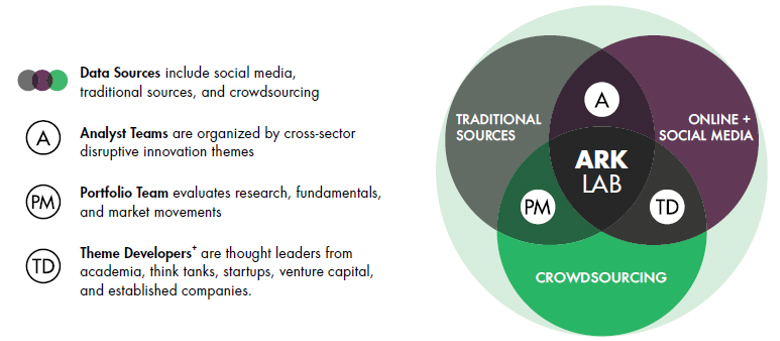 + ARK Theme Developers are not employees of ARK and do not receive compensation from ARK.
Top-down research to define the investment universe
ARK's investment process initially examines from the top-down how the world is changing and where it is headed. To understand quickly changing innovation themes, ARK gathers information from the Open Research Ecosystem. Using this information in an iterative fashion, ARK's investment team works to "size" and "re-size" the opportunities, and then anticipates and quantifies multi-year value-chain transformations and market opportunities. Through this process, specific companies are singled out as best positioned to benefit from the identified investment premise, which leads to the bottom-up process.
Bottom-up analysis to refine the investment opportunity
ARK's bottom-up analysis begins with the aforementioned, distilled group of potential investments. ARK scores potential investments based on the following six key metrics:
Company, People and Culture
Execution of Objectives
Moat or Barriers to Entry
Product and Service Leadership
Thesis Risk
Valuation: 5-Year Return (requires a 15% compound annual return hurdle rate)
The valuation metric requires building out a revenue model for each company in the portfolio over the next five years. These models incorporate the company's unit volume growth, cost declines, market adoption and penetration, share count growth, and future multiples, arriving ultimately at a per share price five years from the current date that should be roughly double the current price.
Finally, as CIO and portfolio manager, Catherine Wood has final accountability for the selection of investments and approval for all investment decisions.
Portfolio and risk management
Thematic portfolios built around disruptive innovation face certain risks. For instance, a primary risk to ARK's investment strategy is that a disruptive technology or disruptor company could become itself disrupted or not fulfill its promise.
To mitigate this risk, ARK continuously monitors the investment thesis of each of its portfolio companies using the Portfolio Tracker. The Portfolio Tracker amalgamates bottom-up scores, both qualitative and quantitative, for all stocks in the portfolio. Within each portfolio ARK tracks a stock's "Thematic Relevance" to evaluate its position. Changes in analysts' scores trigger discussion with the portfolio manager during regular stock meetings. Examples of risks that may trigger a downgrade by analysts include the following: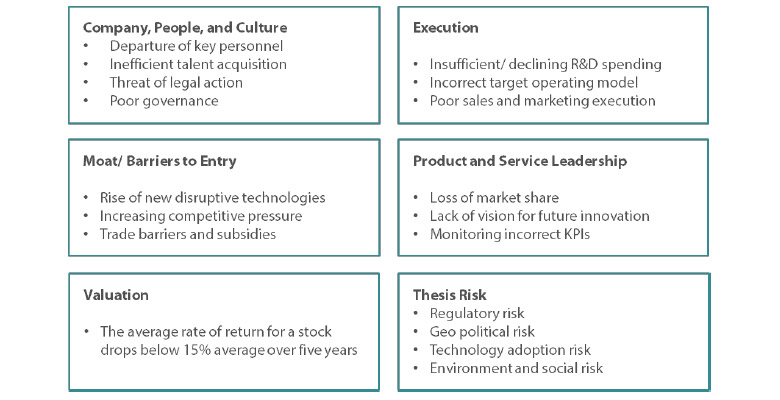 Analysts are responsible for monitoring the portfolio companies they cover on an ongoing basis. However, the primary responsibility for managing the portfolio risk lies with the portfolio manager.